Amsterdam is a city dazzling with brilliant art – literally! The Amsterdam Light Festival runs each year to brighten the city.
Edition #7 of the Amsterdam Light Festival ran from November 28, 2018 to January 19, 2019, featuring stunning light sculptures that could be viewed on foot, by bike, or by boat. The festival extends from the Canal Ring and River Amstel to locations throughout the city centre. Highlighting installations from local and international artists since 2012, the Amsterdam Light Festival has become "one of the largest light art festivals in Europe" (ALF).

Source: https://amsterdamlightfestival.com/en/artworks/starry-night
This year, the Amsterdam Light Festival featured 23 light installations that visitors may seek out on their own, or take a guided tour. Each year, there are guided canal cruises with official festival partners, and plenty of local shops, restaurants, museums, and other attractions with planned activities and events throughout Amsterdam. The festival also works with local schools and educational programs to inspire creativity and even contribute to an artwork!
Partnering your event with local companies and programs can be a particularly powerful strategic step because it aids your brand, event, and the community. It can also help build strong relationships for future collaborations.

Source: https://amsterdamlightfestival.com/en/artworks/bridge-of-the-rainbow
The beauty, artistry, and ingenuity of Amsterdam is on vivid display each year during the Amsterdam Light Festival. Join artists and visitors from around the world as you marvel at the images and clever use of space, colour, light, and darkness. Participate in workshops that let your creativity flourish, watch multimedia performances, and experience the power of storytelling in a completely innovative way.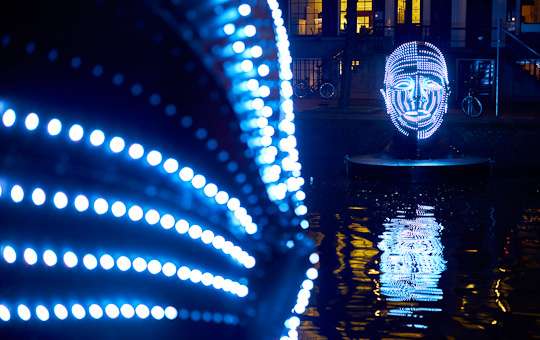 Source: https://amsterdamlightfestival.com/en/artworks/talking-heads
While winters in the Netherlands may be beautiful, evenings can be particularly dark and harsh. So throughout the winter and holiday season, the Amsterdam Light Festival "aims to involve, inspire and enlighten its visitors, artists and partners" (ALF). This festival is a wonderful example of how events, festivals, and art can work within a community and nature to bring joy, relief, and creativity during a typically hard time.
https://antonyhampel.com/wp-content/uploads/2019/06/Amsterdam-Lights-Up.jpg
530
1425
ken.rdkmedia
https://www.antonyhampel.com/wp-content/uploads/2019/04/ah-small-logo2.png
ken.rdkmedia
2019-06-19 15:28:25
2019-06-21 04:15:49
AMSTERDAM LIGHTS UP